Every child, Every chance, Every day!

Beliefs

We believe that students can excel in a safe learning environment.

We believe each student should be valued for his/her uniqueness and be provided individual educational opportunities which promote success in both school and life.

We believe that home/school/community partnerships are an integral part of the learning process.
Vision

The staff will be committed to contributing and working collaboratively within their team and the school, as a whole, to meet the needs of our students.
Student Pledge

I am proud to be a Tabernacle Student. Today, I will show respect for my classmates, my teachers and myself. Today, I will take responsibility for my words and my actions because both show my true character. Today, I will be the best person I can be.

Tabernacle's History
The original Tabernacle School was constructed in 1936 on 8.62 acres for $27,318.13. The original school included six classrooms and an auditorium. The school received its name from Tabernacle Township which was named for a Methodist Church. There were two buses for the school and seven grades in six rooms.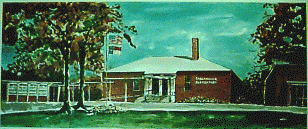 A cafeteria was built on the hill in 1944. The parents of the students provided food to cook. In 1955, a building was constructed to house five additional classrooms and the cafeteria. In 1980 a building was constructed to serve as gymnasium and auditorium. The original auditorium was converted to a media center with a connecting administrative area , teachers' workroom, and resource rooms. Before relocating to the new school in 1997, there were nine mobile units serving as additional classrooms.
On March 14th, 1997, the faculty, staff, and students moved into a new 56,000 square foot facility. For 7.1 million dollars, we are operating under a state-of-the-art structure.

Since the move to the new facility in 1997, the following additions have been added:

* a covered walkway to front entrance
* extended staff parking lot
* replaced lab with state-of-the-art PC's to accommodate an entire
classroom with Internet access (Fall of 2002, Summer of 2009)
* addition of PC's to computer work stations in media center (as of Fall 2002)
* a Mobile Lab that houses 30 laptop computers (Fall 2007)